By Jack Daleo, June 28, 2023
An electric flying car design, capable of driving on roads like an automobile or taking off and flying like a vertical takeoff and landing (VTOL) aircraft, just received the all clear to fly under experimental status from the FAA, a step on the path towards type certification.
A precursor to Alef Aeronautics' Model A—in development since 2015 and expected to go on sale for $300,000 by 2025—was awarded an experimental category special airworthiness certificate, becoming the first "true" flying car design with the legal signoff to fly from the U.S. government, according to the company.
"True" is in quotations because the FAA has awarded its blessing to similar models. Terrafugia's Transition earned special light sport aircraft (SLSA) compliance in 2021, while Samson Sky's Switchblade was cleared for flight test last July. But neither model is fully electric, and both rely on fixed-wing flight, which restricts the aircraft's takeoff to airports.
Alef's Model A, though, is designed to enable takeoff in dense urban settings. Following the Santa Clara, California-based startup's emergence from stealth in October, CEO Jim Dukhovny explained that the vehicle will primarily drive on roads but will allow users to "hop" around obstacles such as "road conditions, weather, and infrastructure."
The FAA told FLYING that it issued a special airworthiness certificate for the Armada Model Zero, a precursor to the Model A, on June 12. The agency said the signoff allows the aircraft to be used for limited, experimental purposes, such as exhibition, research, and development.
"Our flights were very limited without this certification," an Alef spokesperson told FLYING. "This certification now gives us the ability to fly in locations we need (for example, near our headquarters in Silicon Valley) and purposes we need (like exhibition, for example)."
The spokesperson added the certificate will enable Alef's first public flight demonstrations.
Alef said it has been flying full-scale Model A prototypes since 2019, following four years of research and development. That year, it demonstrated driving, vertical takeoff, and a short forward flight for investors. But the startup was heavily limited by FAA restrictions around large VTOL aircraft.
While its design was being workshopped, Alef caught the attention of Tim Draper, a venture capitalist and early investor in successful companies such as Skype, Tesla, and SpaceX (and an unsuccessful one in Theranos). Draper also provided funding for GM's driverless car arm, Cruise.
In October 2022, Draper's Associates Fund V backed Alef with $3 million in seed funding, a modest investment compared to some eVTOL titans. But the startup has since attracted other investors, including Impact Venture Capital, Bronco Ventures, and Jim Boettcher, a founding partner of Focus Ventures.
The company has also been enlisting Swedish designer Hirash Razaghi, who has worked on projects for Bugatti, Jaguar, and Infiniti, to develop the Model A's exterior since 2021.
All of these developments came to a head in October, when Alef unveiled the Model A to a crowd at Draper's entrepreneurial school in San Mateo. That press conference provided most of the information we know about the vehicle.
Duchovny told onlookers that the Model A will have a driving range of 200 sm and a flying range of 110 miles (around 95 nm), capable of carrying one passenger. Rather than a single large engine, the design places four smaller engines in the wheels. The driver's seat is in the middle, surrounded by a mesh outer layer. But the bulk of the design's infrastructure is simply air—the meshing provides breathing room for the vehicle's eight propellers, allowing it to lift off vertically.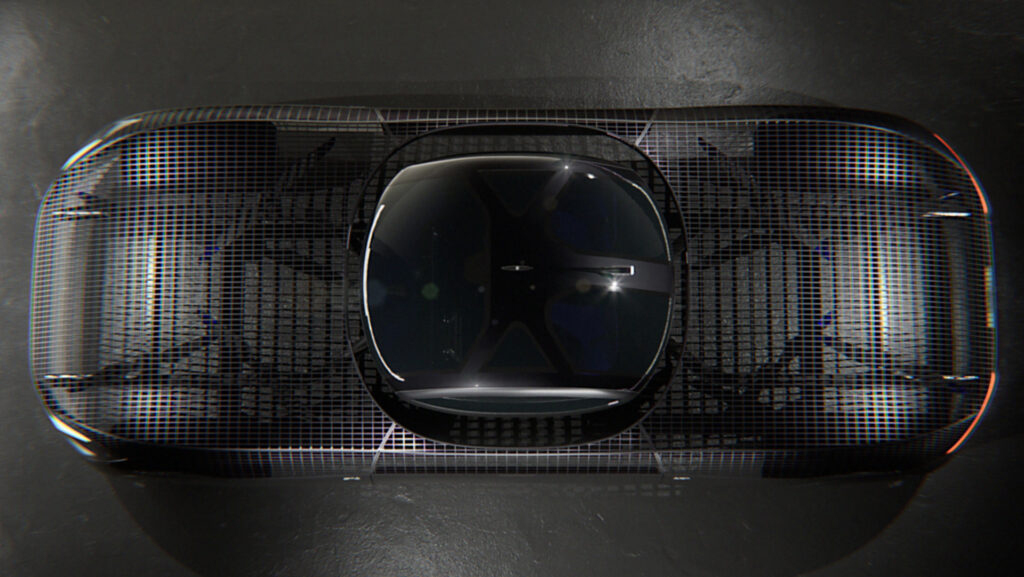 A top view of Alef's Model A, with its eight vertical lift propellers visible. [Courtesy: Alef Aeronautics]
That's when the magic supposedly happens. When transitioning from hover to forward flight, the entire vehicle rotates so that its left and right sides become upper and lower wings. The driver's seat also gyrates into position so that the driver—now a pilot—faces what was the vehicle's roof in the car configuration. Once everything is aligned, forward flight can commence.
But like any novel technology, there are many questions about the Model A's feasibility. For one, as Gartner analyst Mike Ramsey pointed out to CNBC, mass production and regulatory approvals present steep challenges for a startup that wants to travel legally both on and above public roads. And the vehicle will need to meet safety standards for both automobiles and aircraft.
For evidence of how difficult Alef's task may be, look no further than the Model A's cousin, the air taxi. Firms such as Joby and Archer Aviation have navigated the FAA's eVTOL certification process for years, held back by safety and regulatory concerns and a lack of clarity around certification requirements.
The flying car, an even more ambitious technology, will face greater scrutiny from multiple agencies within the Department of Transportation. That places Alef's 2025 launch target in jeopardy.
Knowing this, the firm's plan is to first certify the Model A in Asia or Europe, where it believes it can get in the air faster. But more questions will arise once the vehicle gets off the ground.
The biggest concern is efficiency. To be commercially viable as a car, Model A will need to at least approach the speed of a typical automobile. And Dukhovny's plan to initially certify it as a low speed vehicle—limited to speeds of just 25 mph on public roads—doesn't inspire confidence, despite his assurance the startup will eventually seek full automobile certification.
Then there's the problem of flying. While winged flying car designs like Terrafugia's Transition and Samson Sky's Switchblade are expected to take off from airports, Alef's is designed to lift off in urban settings, such as congested city streets. That presents major air traffic control challenges because U.S. skies are not yet prepared to be dominated by personal vehicles.
Still, the Model A boasts its share of proponents. In January, Alef revealed it received more than 440 preorders within months of opening presale to the public. Prospective users pay $150 to enter the preorder general queue, or $1,500 to join a priority queue. Those orders, including one by a large Hong Kong-based aviation company, would represent more than $132 million in revenue when realized, the startup said.
In addition to the Model A design, which Model Zero flight tests will support, Dukhovny said Alef is developing a four-seat, $35,000 variant called the Model Z. That version will supposedly have a range of 400 miles on the ground and 200 miles in the air, with introduction planned for 2035.